Frequently Asked Questions (FAQ) of Verification, Deposit and Withdrawal in Olymp Trade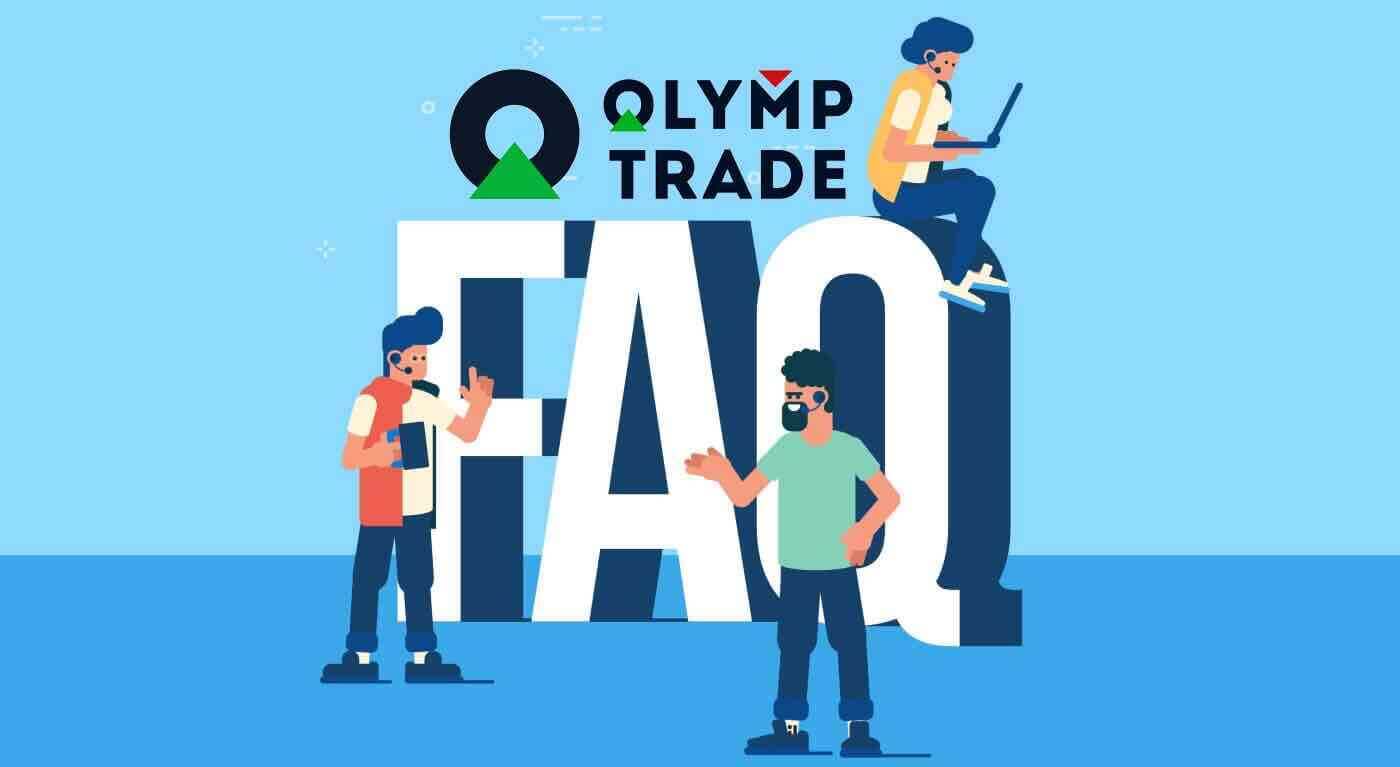 Verification



Why is verification needed?
Verification is dictated by financial service regulations and is necessary to ensure the security of your account and financial transactions.
Please note that your information is always kept safe and is only used for compliance purposes.
Here are all the required documents to complete account verification:
– Passport or a government-issued ID
– 3-D selfie
– Proof of address
– Proof of payment (after you have deposited funds into your account)  
When do I need to verify my account?
You can freely verify your account anytime you want. However, it is important to remember that once you have received an official verification request from our company, the process becomes mandatory and needs to be completed within 14 days.
Normally, verification is requested when you attempt any type of financial operations on the platform. However, there might be other factors.
The procedure is a common condition among the majority of the reliable brokers and is dictated by regulatory requirements. The aim of the verification process is to ensure the security of your account and transactions as well as meet anti-money laundering and Know Your Customer requirements.  
In what cases do I need to complete verification again?
1. New payment method. You will be asked to complete verification with every new payment method used.
2. Missing or outdated version of the documents. We may ask for missing or correct versions of the documents needed to verify your account.
3. Other reasons include if you would like to change your contact information.  
What documents do I need to verify my account?
If you would like to verify your account, you will need to provide the following documents:
Situation 1. Verification before depositing.
To verify your account before depositing, you will need to upload proof of identity (POI), a 3-D selfie, and proof of address (POA).
Situation 2. Verification after depositing.
To complete verification after depositing money to your account, you will need to upload proof of identity (POI), a 3-D selfie, proof of address (POA), and proof of payment (POP).  
What is identification?
Completing the identification form is the first step of the verification process. It becomes necessary once you have deposited $250/€250 or more into your account and received an official identification request from our company.
Identification needs only be completed once. You will find your identification request in the upper right corner of your profile. After you have submitted the identification form, verification may be requested anytime.
Please note that you will have 14 days to complete the identification process.  
Why do I need to complete the identification process?
It is needed to verify your identity and protect your deposited money from unauthorized transactions.  



Security



What Is Two-Factor Authentication?
Two-factor authentication is an extra layer of security for your trading account. It is a free step, at which you need to provide an additional piece of information, like a secret SMS code or a Google Authenticator code.
We recommend that you enable two-step authentication to ensure your account is safe.



Two-Factor Authentication via SMS
To set up two-factor authentication via SMS:
1. Go to your Profile Settings.
2. Select Two-Factor Authentication in the Security section.
3. Select SMS as an authentication method.
4. Enter your phone number.
After that, you will receive a verification code. Enter it to enable two-factor authentication via SMS.
From now on, you will receive a passcode via SMS each time you sign in to your account.
Please note that you can request a verification code no more than 10 times within a 4-hour window using a single user ID, IP address, or phone number.  
Two-Factor Authentication via Google
To set up two-factor authentication via Google Authenticator:
1. Be sure to install a Google Authenticator app on your device. Sign in to it using your email.
2. Go to the Profile Settings on the trading platform.
3. Select Two-factor authentication in the "Security" section.
4. Select Google Authenticator as an authentication method.
5. Scan the QR code or copy the created passcode to link your the Google Authenticator app to your platform account.
You can disable the Google authentication or switch to the SMS authentication at any time.
From now on, Google Authenticator will generate a 6-digit one-time passcode every time you log in to your trading account. You will need to enter it to sign in.



Strong password
Create a strong password that contains uppercase, lowercase letters, and numbers.
Do not use the same password for different websites.
And remember: the weaker the password, the easier it is to hack into your account.
For example, it will take 12 years to crack the "hfEZ3+gBI" password, while one only needs 2 minutes to crack the "09021993" password (date of birth.)



Email and Phone Number Confirmation
We recommend that you confirm your email and phone number. It will enhance the security level of your account.
To do it, go to the Profile settings. Make sure the email specified in the Email field is the one linked to your account. If there is a mistake in it, contact the support team and change the email. If the data is correct, click on this field and select "Continue".
You will receive a confirmation code at the email address you have specified. Enter it.
To confirm your mobile phone, enter it in your Profile settings. After this, you will receive a confirmation code via an SMS text message, which you will need to enter in your profile.



Archiving an Account
A trading account can be archived only if all 3 of the following conditions are met:
1) There is more than one Real trading account.
2) There are no funds remaining on the account balance.
3) There are no active trades associated with the account.
Deposit



When will the funds be credited?
The funds are usually credited to trading accounts fast, but sometimes it can take from 2 to 5 business days (depending on your payment provider.)
If the money has not been credited to your account right after you make a deposit, please wait for 1 hour. If after 1 hour there is still no money, please wait and check again.  
I Transferred Funds, but They Weren't Credited to My Account
Make sure the transaction from your side has been completed.
If the funds transfer was successful from your side, but the amount was not credited yet to your account, please contact our support team by chat, email, or hotline. You will find all contact information in the "Help" menu.
Sometimes there are some issues with the payment systems. In situations like this, funds are either returned to the payment method or credited to the account with a delay.  
Do you charge a brokerage account fee?
If a customer has not made trades in live account or/and has not deposited/withdrawn funds, a $10 (ten US dollars or its equivalent in the account currency) fee will be monthly charged to their accounts. This rule is enshrined in non-trading regulations and KYC/AML Policy.
If there are not enough funds in the user account, the amount of the inactivity fee equates to the account balance. No fee will be charged to a zero-balance account. If there is no money in the account, no debt is to be paid to the company.
No service fee is charged to the accont provided that the user makes one trading or non-trading transaction (funds deposit/withdrawal) in their live account within 180 days.
The history of inactivity fees is available in the "Transactions" section of the user account.  
Do you charge a fee for making a deposit/withdrawing funds?
No, the company covers the costs of such commissions.  
How can I get a bonus?
To receive a bonus, you need a promo code. You enter it when funding your account. There are several ways to get a promo code:
– It may be available on the platform (check the Deposit tab).
– It may be received as a reward for your progress on Traders Way.
– Also, some promo codes may be available in the brokers official social media groups/communities.



Bonuses: Terms of Use
All the profit a trader makes belongs to him/her. It can be withdrawn any moment and without any further conditions. But note that you cannot withdraw bonus funds themselves: if you submit a withdrawal request, your bonuses are burned.
The bonus funds in your account sum up if you apply a bonus promo code when depositing additional money.
Example: In his account, a trader has $100 (their own funds) + $30 (bonus funds). If s/he adds $100 to this account and applies a bonus promo code (+ 30% to the deposit amount), the account balance will be: $200 (own money) + $60 (bonus) = $260.
Promo codes and bonuses can have unique terms conditions of use (validity period, bonus amount).
Please note that you cannot use the bonus money to pay for the Market features.  
What happens to my bonuses if I cancel a funds withdrawal?
After making a withdrawal request, you may continue trading using your total balance until the requested amount is debited from your account.
While your request is being processed, you may cancel it by clicking the Cancel Request button in the Withdrawal area. If you cancel it, both your funds and bonuses will remain in place and available for use.
If the requested funds and bonuses are already debited from your account, you may still cancel your withdrawal request and recover your bonuses. In this case, contact Customer Support and ask them for assistance.  
Withdrawal



What Payment Methods Can I Withdraw Funds To?
You can only withdraw funds to your payment method.
If you have made a deposit using 2 payment methods, a withdrawal to each of them should be proportional to the payment amounts.  
Do I Need to Provide Documents to Withdraw Funds?
There's no need to provide anything in advance, you will only have to upload documents upon request. This procedure provides additional security for the funds in your deposit.
If your account needs to be verified, you will receive an instruction on how to do it by email.  
What Should I Do If the Bank Rejects My Withdrawal Request?
Don't worry, we can see that your request has been rejected. Unfortunately, the bank doesn't provide the reason for the rejection. We will send you an email describing what to do in this case.  
Why Do I Receive the Requested Amount in Parts?
This situation may arise because of the payment systems' operational features.
You have requested a withdrawal, and you only got part of the requested amount transferred to your card or e-wallet. The withdrawal request status is still "In process".
Don't worry. Some banks and payment systems have restrictions on the maximum payout, so a larger amount can be credited to the account in smaller parts.
You will receive the requested amount in full, but the funds will be transferred in a few steps.
Please note: you can only make a new withdrawal request after the previous one has been processed. One cannot make several withdrawal requests at once.  
Funds Withdrawal Cancellation
It takes some time to process a withdrawal request. The funds for trading will be available within this entire period.
However, if you have less funds in your account than you have requested to withdraw, the withdrawal request will be cancelled automatically.
Besides, сlients themselves can cancel withdrawal requestes by going to the "Transactions" menu of the user account and cancelling the request.  
How Long Do You Process Withdrawal Requests
We are doing our best to process all our clients requests as fast as possible. However, it may take from 2 to 5 business days to withdraw the funds. The duration of the request processing depends on the payment method you use.  
When Are the Funds Debited from the Account?
Funds are debited from the trading account once a withdrawal request is processed.
If your withdrawal request is being processed in parts, the funds will be also debited from your account in parts.  
Why Do You Credit a Deposit Straight off but Take Time to Process a Withdrawal?
When you top up, we process the request and credit the funds to your account straight off.
Your withdrawal request is processed by the platform and your bank or payment system. It takes more time to complete the request due to an increase of counterparties in the chain. Besides, each payment system has own withdrawal processing period.
On average, funds are credited to a bank card within 2 business days. However, it may take some banks up to 30 days to transfer the funds.
E-wallet holders receive the money once the request is processed by the platform.
Don't worry if you see the status saying "Payout has been successfully made" in your account but you haven't received your funds.
It means that we have sent the funds and the withdrawal request is now processed by your bank or payment system. The speed of this process is out of our control.  
How come I still haven't received the funds despite the request status saying "The payout has been successfully made"?
The "Payout has been successfully made" status means that we have processed your request and sent the funds to your bank account or e-wallet. Payouts are made from our end once we have processed the request, and the further waiting time depends on your payment system. It usually takes 2–3 business days for your funds to arrive. If you haven't received the money after this period, please contact your bank or payment system.
Sometimes banks reject transfers. In this case, we would be happy to transfer the money to your e-wallet instead.
Also, keep in mind that different payment systems have different restrictions related to the maximum amount that can be deposited or withdrawn within a single day. Perhaps, your request has exceeded this limit. In this case, contact your bank or payment method support.  
How Do I Withdraw Funds to 2 Payment Methods
If you topped up with two payment methods, the amount of the deposit you want to withdraw should be proportionally distributed and sent out to these sources.
For example, a trader has deposited $40 in their account with a bank card. Later, the trader made a deposit of $100 using the Neteller e-wallet. After that, he or she increased the account balance to $300. This is how the deposited $140 can be withdrawn: $40 should be sent to the bank card $100 should be sent to the Neteller e-wallet Please note that this rule applies only to the amount of funds one has deposited. The profits can be withdrawn to any payment method without restrictions.
Please note that this rule applies only to the amount of funds one has deposited. The profits can be withdrawn to any payment method without restrictions.
We have introduced this rule because as a financial institution, we must comply with international legal regulations. According to these regulations, a withdrawal amount to 2 and more payment methods should be proportional to the deposit amounts made with these methods.  
How do I remove the payment method
After you verify your account, our support consultants will check whether your saved payment method can be removed.
You will be able to withdraw funds to all other payment methods available.  
What should I do if my card/e-wallet is no longer active?
If you can no longer use your card because it has been lost, blocked, or expired, please report the issue to our support team before submitting a withdrawal request.
If you have already submitted a withdrawal request, please inform our support team. Someone from our financial team will contact you by phone or email to discuss alternative withdrawal methods.  
Why am I asked to provide my e-wallet details if I want to withdraw funds to my bank card?
In some cases, we cannot send out amounts that exceed the initial deposit made using a bank card. Unfortunately, banks do not disclose their reasons for rejection. If this situation arises, we will send you detailed information by email, or contact you by phone.