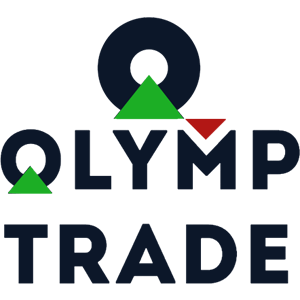 Olymp Trade Review
St. Vincent and the Grenadines
Founded:

2014
Min Deposit:

$10
Max Leverage:

500
Regulators:

IFC
No deposit or withdrawal fee
Free Demo Account available
Member of the Financial Commission
Customer service available 24/7
Platforms: Olymp Trade Trading
Olymp Trade Summary
| | |
| --- | --- |
| Headquarters | St. Vincent and the Grenadines |
| Regulation | IFC |
| Platforms | Olymp Trade WebTrader |
| Instruments | 36 Currency Pairs, 9 Cryptocurrencies, 6 Commodities, 13 Stocks, 10 Indices, 5 ETFs |
| Costs | Trading costs and spreads are low and average compared to competition |
| Demo Account | Available |
| Minimum deposit | $10 |
| Leverage | 1:500 on FX Trading |
| Commission on Trade | No |
| Inactivity Fee | No |
| Withdrawal options | Web Money, Neteller, Skrill, Bitcoin, Qiwi, and Yandex Money... |
| Education | Professional Education with vast learning materials |
| Customer Support | 24/7 |



Introduction
Olymp Trade is a well-known online trading platform, which was established in 2014.It offers many different assets, which are a rare trading asset in forex brokers. Olymp Trade also has it own mobile application with more than 50M installations.
Olymp Trade is part of an international organization, the Financial Commission, which regulates that any illegal acts are reimbursed up to $20,000 of real money that is sourced from the Compensation Fund
A strong advantage is the minimum amount that is required to start trading and opening a live account. In order to start trading with Olymp Trade, the minimum amount is ten dollars, so anyone can join the financial technology company and start trading.
Technical support is available 24/7 with a multi-lingual team of specialists, available by email, phone and chat, which are always ready to respond quickly and efficiently.
Clients of Olymp Trade can also have easy access to educational resources and training materials. Any members of Olymp Trade have the option to utilize any of those materials and resources at any time. Olymp Trade is available for traders from all countries except: Australia, Canada, USA, Japan, UK, EU (all countries), and Israel.
This Olymp Trade review is an in-depth analysis of everything there is to know about this trading services provider and what it has to offer
Pros
No deposit or withdrawal fee
Free Demo Account available
Member of the Financial Commission
Customer service available 24/7
Cons
Only one trading platform available
Not available for trading in all countries (EU, UK, and USA included)
Long withdrawal process
Olymp trade Rewards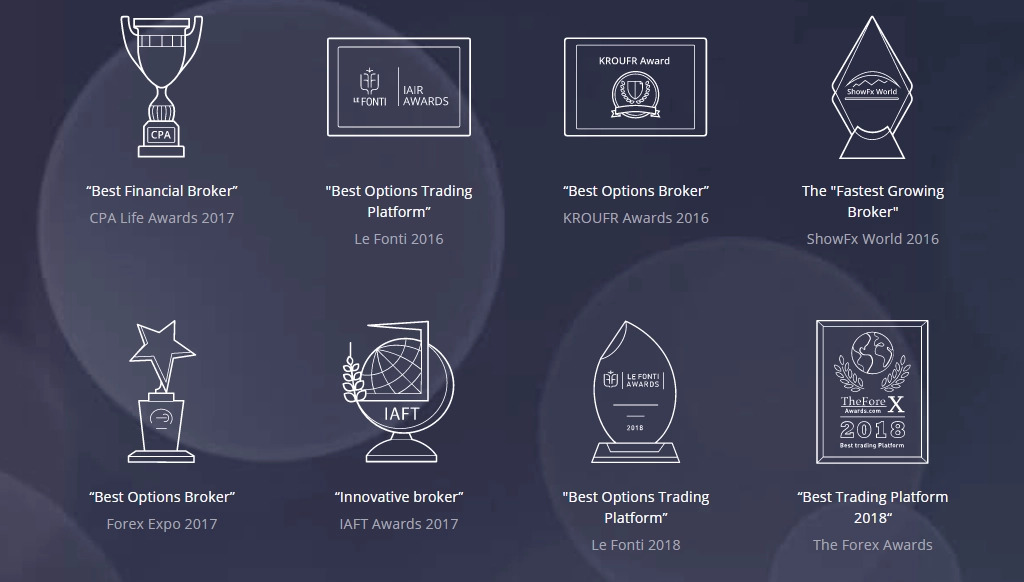 Safety and Regulation
Although Olymp Trade does not hold a strong financial services license, it is a certified and validated brokerage firm that is part of the International Financial Commission. The Financial Commission is an international finance organization that allows a 20,000EUR guarantee for traders, full access to their resources, and legal assistance if needed.
In other words traders can enjoy many rare forex trading perks with a safety line.
Pros
Regulated by the Financial Commission
Provides 20,000EUR for compensation
Legal assistance is available
Investor protection available
Cons
Not regulated by any financial regulator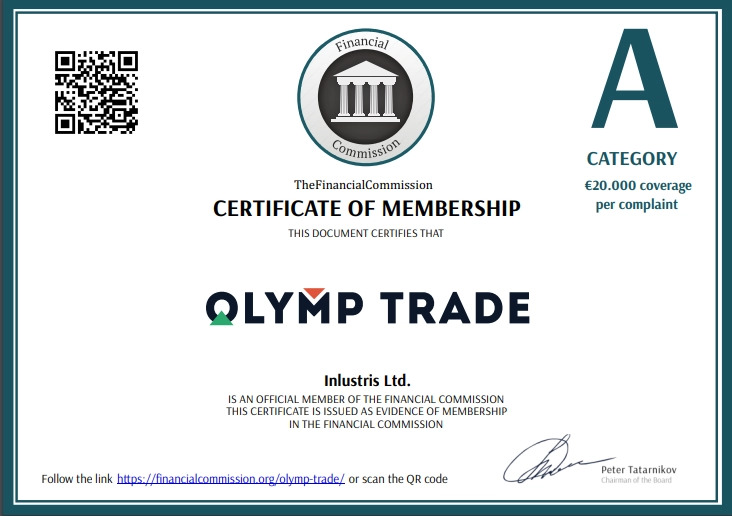 Olymp Trade is a certified brokerage firm by one of the best and strictest financial organization in the world, the Financial Commission.
The Financial Commission is a financial organization that acts as a mediator and regulator, in the case of any issue with a trader. Any member with the IFC must provide an annual report and act with full transparency towards the IFC and their traders.
In order to keep their traders safe, Olymp Trade focuses on the financial compensation 0f 20,000EUR if any misconduct occurred to the trader. The trading service provider also provides annual report to the IFC on their yearly trades, as well as allows traders full legal assistance from the IFC, if any issue may arise.


Olymp Trade Fees
Olymp Trade have relatively low trading fees, which is uncommon for Forex brokers. Most FX brokers make their profit from their non-trading fees, which is why it is best to consider whether the cost is worth the service.
| Deposit and withdrawal Fees | |
| --- | --- |
| Deposit Fee | 0USD |
| Withdrawal fee | 0USD |
| Minimum withdrawal Limit | 10USD |
| Minimum Deposit | 10USD |
| | Olymp | XM | Etoro | FP markets |
| --- | --- | --- | --- | --- |
| Account Fee | No | No | No | No |
| Inactivity fee | Yes | Yes | No | No |
| Deposit fee | 0$ | 0$ | 0$ | 0$ |
| Withdrawal fee | 0$ | 0$ | 25$ | 10AUD |
Pros
No withdrawal fees
No deposit fees
Minimum withdrawal and deposit amount is very little
Large payout amounts for both types of accounts
Cons
Account Opening
Olymp Trade VIP Account
The account is available for clients who are advanced in trading, and is preferred by very expert traders. In order for an account to be live and utilized, traders must deposit two thousand dollars($2000), or its currency equivalent.
The clients who acquired the VIP Accounts benefit from faster withdrawals, and they get the assistance of a VIP consultant, financial analysts, and various trading instruments.
Pros
Faster withdrawals
VIP Consultant
Suitable for elite traders
Accommodating for large investment traders
Free Demo Account available
Cons
High minimum deposit amount
Not suitable for novice traders



Olymp Trade Standard Account
The trading account that is used by most traders is the Standard Account, and is available for any prospective client that wants to casually trade or test a free Demo Account.
The account has a minimum amount to trade with, which is one dollar, and a maximum amount to trade with, which is two thousand dollars. The Standard Account allows the maximum possible profit of eighty percent when there is a successful trade. With the Standard Account, there is a minimum withdrawal fund of ten dollars, with no limit for any withdrawal.
Withdrawals can take up to 24 hours, with a maximum waiting time of three days.
Pros
Free Demo Account available
Low trading fees
Low minimum deposit account
Maximum possible profit of 80% for each successful trade
Low minimum withdrawal amount
Cons



How to Open an Olymp Trade Account
STEP ONE:
Fill in your name, email address, password, and your preferred base currency.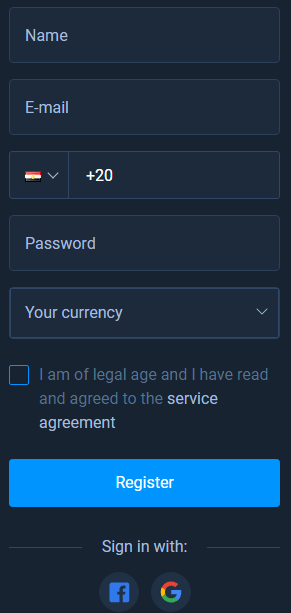 STEP TWO:
 You will be activated as a Demo Account holder for 60 minutes, where you will have to deposit funds to your trading account to go live.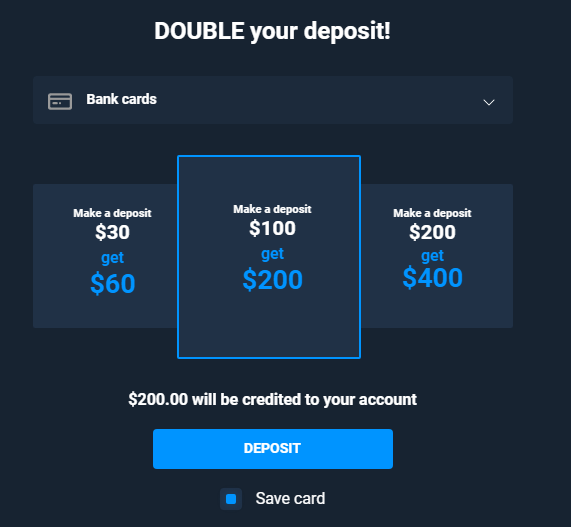 STEP THREE:
 You can start trading now!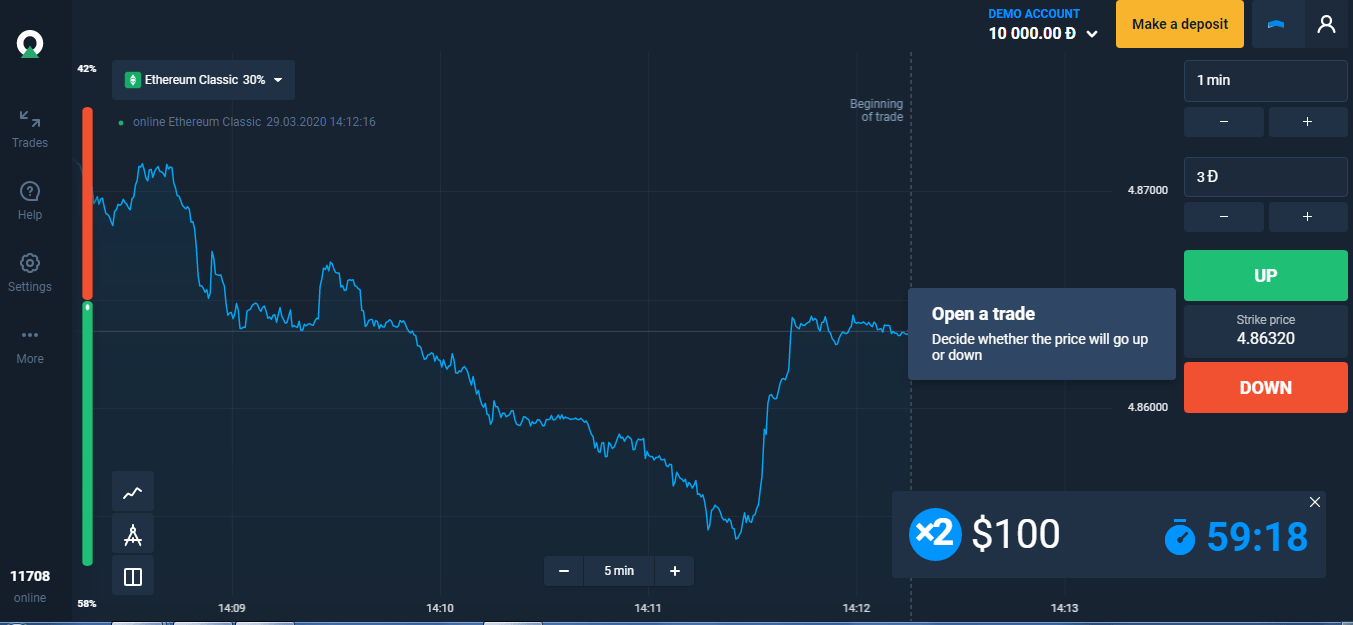 Deposit and Withdrawal
Olymp Trade offers their traders with various options on deposits and withdrawals. With deposits, traders can fund their accounts through different payment methods; these methods include the use of Visa and MasterCard, electronic payments, and Boleto. Boleto is an option available for all clients based in Brazil.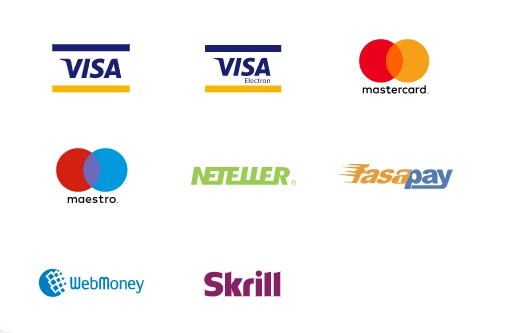 Clients who prefer using e-wallets can apply through Web Money, Neteller, Skrill, Bitcoin, Qiwi, and Yandex Money. Withdrawals have the exact same options for payment, as well.
Pros
No deposit fee
Low minimum deposit amount
Fast deposit process
Various options for deposits
Cons



Olymp Trade Deposit Options
Bank Wire Transfer
Credit And Debit Cards
Electronic Wallets



Withdrawals
With Olymp Trade, there is an option that traders can make a withdrawal, after completing the deposit. The maximum waiting time for a withdrawal request can take up to three days, but Olymp Trade attempts to finish the transaction as fast as possible. Any trader with the Standard Account, the average waiting time is twenty four hours. However, as a VIP Account holder, the average waiting time is only a few hours.
There are no withdrawal fees and the minimum withdrawal amount is ten dollars. Along with that, all transaction fees are on Olymp Trade and they do not charge commissions to traders.
Pros
No withdrawal fee
Fast withdrawal process
Low minimum withdrawal amount
Cons



Olymp Trade Withdrawal Options
Bank Wire Transfer
Credit And Debit Cards
Electronic Wallets
Trading Platforms
The current trade platform for Olymp Trade is an in-house trading-platform that is established and developed by Olymp Trade's software developers. The trading platform operates on both Android and iOS software, as a mobile application. This means that all clients of Olymp Trade can trade anytime, anywhere.
According to client reviews and feedback, the trading platform is user-friendly and it has a sense of direction when it comes to the client's trading strategies. Olymp Trade and its mobile application is considered to be one of the best applications that are available in the financial market.
The trading platform for Olymp Trade is self-sufficient and very easy to comprehend; it contains technical indicators and analysis instruments that facilitate traders find the best trading strategy. The in-house Olymp Trade trading platform also provides a history section at the bottom of the page, allowing traders to stay updated on a specific asset and track its progress. On the left side of the page, there is a trading chart and on the right side of the page is an icon where the trader is allowed to define the duration of the trade, the amount for trading, and to place a Put or Call option.
You will also find that there is a MetaTrader4 trading platform available for you. MT4 is one of the most common and most effective trading platforms in the world, and most traders are familiar with it.



Web Trading Platform
There are two types of trading orders with Olymp Trade, price orders and time orders. With price orders, you can place an order, depending on the price you have limited to. As for the time orders, you can place an order at a specific time, which will be automatically executed at the time requested.
You may not be able to activate alerts and notifications for your Olymp Trade trading platform account, but you will be able to view all of your past and pending orders. You will also have the option to look through your past traders, along with a detailed report of those trades. This will help you keep track of your trades, and what your next could be.
With Olymp Trade platform, the interface is very simple and easy to use. You will not find any issue with finding the indicators, tools, and financial markets. The web trading platform is a multi-chart platform, which means that you can operate several charts at once.



Desktop Trading Platform
The desktop trading platform is similar to the Olymp Trade web trading platform, but the desktop trading platform must be downloaded as an add-on to your device, Windows or Mac.
Pros
Available on Windows and MT4
Multi-functional charting tools
Easy access and user friendly
Customizable
200+ financial markets available
Cons
No alerts and notifications



Mobile Trading Platform
There are two types of trading orders with Olymp Trade mobile application, price orders and time orders. With price orders, you can place an order, depending on the price you have limited to. As for the time orders, you can place an order at a specific time, which will be automatically executed at the time requested.
With Olymp Trade mobile application, you are able to use your fingerprint as a form of logging in to your trading account. The fingerprint recognition feature is very rare to find, since it requires advanced technology. Despite not having a two-step login process, the fingerprint recognition is a better alternative.
With the mobile application platform, you are able to activate alerts and notifications through your mobile settings. You will see it in the form of  a push notification found in your device's settings.
Overall, the Olymp Trade mobile application is very user friendly and it allows traders- on-the-go to never miss an essential opportunity to trade. The mobile application is available for traders with software, iOS and Android. With the Android, you can enable the fingerprint recognition feature, as another form of logging in.
Pros
Trading 24/7
User friendly
Fingerprint recognition for login available
200+ financial markets available
Multi-charts feature available
Cons
No two-step login process
Markets and Financial Instruments
Olymp Trade offers clients the chance to Trade in Stocks, Commodities, ETFs, Currencies, Cryptocurrency. Nonetheless, instrument availability will fluctuate depending upon where the trader resides.
Leverages with Olymp are variable and rely upon the types of trade the client is considering.
| | |
| --- | --- |
| 36 Currency Pairs | 9 Cryptocurrencies |
| 6 Commodities | 13 Stocks |
| 10 Indices | 5 ETFs |
| Fixed Time Trades | |
Market Research and Trading Tools
Olymp Trade has an expanding range of educational materials and resources, allowing educating traders on everything they need to make good trading decisions and find the best trading strategies. These educational resources are: webinars, video tutorials, trend indicators, blog posts, and a social media platform presence.
Olymp Trade is considered one of the trendiest and most popular trading providers that utilize social media to their benefit. Social media platforms like Facebook and YouTube are used to disseminate educational resources to their traders. Any client who is interested in being educated in the trading industry has access to do so through a live stream via Facebook, or join the webinars available on YouTube.
The video tutorials available for traders consist of guidelines and how-to videos that articulate over any confusion traders might have over the website.
Pros
Uses social media as an educational tool
Easy access for traders
Visual aid on using the platform
Free educational resources
Daily and weekly reviews available on blog
Interactive courses
Cons
No news feed with live updates
There are also trading tools that traders will find very helpful during their trading sessions. The most common trading tool is the economic calendar, which set up alerts of the most important trading events that are taking place at a specific time and date. The trading signals also allows you to move in a certain direction, through analytics and in-depth data, so you can profit from your trading as efficiently as possible and not face major financial loss.



Olymp Trade Trading Tools
There are many trading tools provided by Olymp Trade, which are easily accessed for all traders. The trading tools include fundamental analysis, cryptocurrency support, and other tools that can be found on their in-house trading platform.
Olymp Trading Tools
Economic calendar
Cryptocurrency support
Trade cancellation tool
Pending trade
Trading signals
Pros
Available for all traders
Easy access and user friendly
Accurate trading tools
Available on web trading platform, desktop trading platform, and mobile application
Cons
Trading signals available for only VIP Account holders
Customer Service
With Olymp Trade, they provide a customer service support that is available 247. The customer support can be reached via email, phone support, or by contact form. Their phone support is available in South Africa and Argentina.
Pros
Available 24/7
Various methods of customer support
Relevant responses
Cons
PO customer service can be a slow process



Means Of Communication
Email
Phone support
PO Address
Many traders have been impressed by the trading experience of Olymp Trade, specifically in the customer service support and the withdrawal process. Traders who have requested withdrawals receive their funds in only 24 hours, while VIP Account holders receive it in a few hours. Many traders who have used the customer service were grateful of the fast and relevant answers they have received, but the PO customer support method has been considered slow compared to the other customer support options.
Client Education
Olymp Trade provides potential traders, who want to become experienced traders, access to the trading experience without facing any financial loss, through a Demo Account. The Demo Account offers virtual funds of ten thousand of the currency of trader's choice, to give them the option to evaluate the benefits of their in-house trading platform.



Olymp Trade Educational Offering
Strategies
Webinar DO
Webinar Forex
Demo Account
Conclusion
Olymp Trade is a trading services provider that was created in 2014 in Saint Vincent and the Grenadines. It currently has 25,000+ active users, using either their Standard Account or their VIP Account. Olymp Trade is regulated by being a member of the renowned International Financial Commission (IFC), which is a mediator between the trader and the broker. The members of the IFC are required to hand in an annual report as a form of Monitoring and Evaluating, along with a 20,000USD financial compensation if there was any financial misconduct caused by the broker.
Olymp Trade is one of the most famous brokers. However, they do not accept clients from various countries, including but not limited to the US, UK, and Japan. They are also one of the very few brokers who have a strong social media presence, using social media as an educational tool for traders to learn through.