How to Speed Up Your Withdrawals on Olymp Trade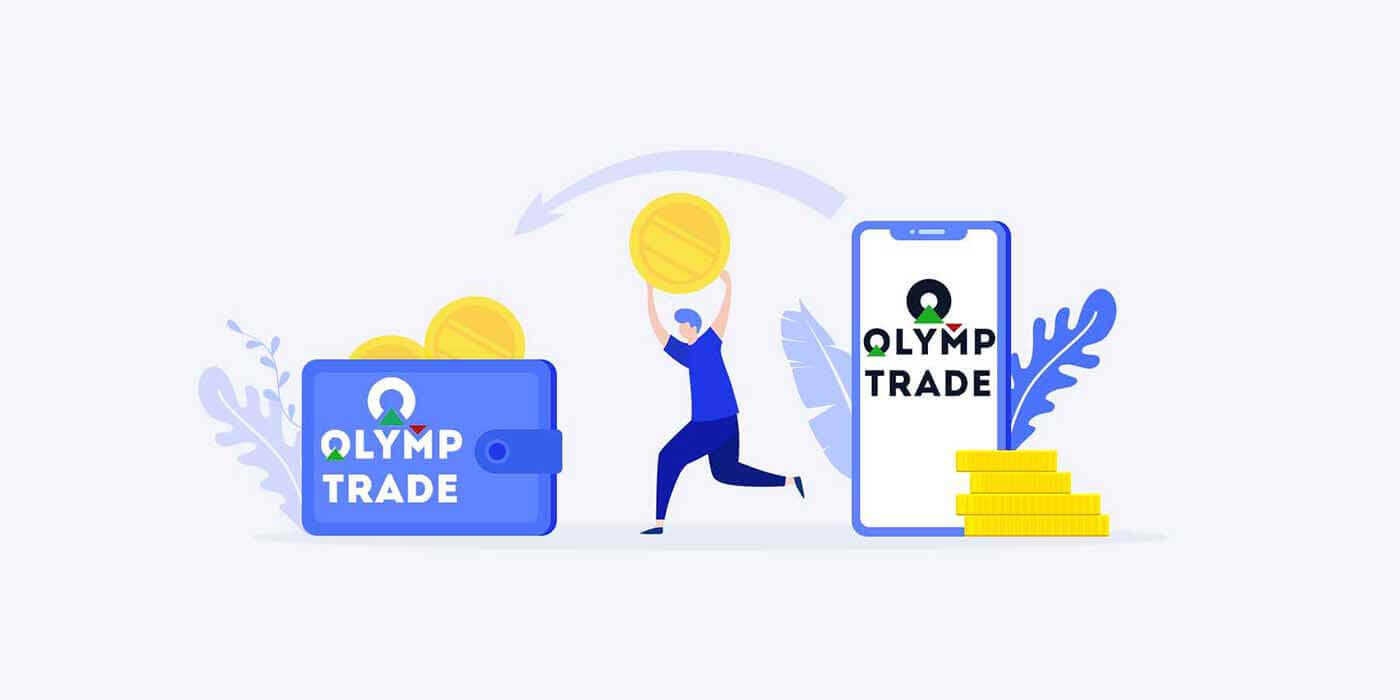 You've done well and have increased your balance on your Olymp Trade account and now you want to take some of the money to do something special with it. So, how do you go about withdrawing your money from your trading account?
Good news! Withdrawing your money is actually easier than depositing it. We present you with a simple guide to walk you through the process of conducting a withdrawal from your account on Olymp Trade.
Olymp Trade's deposit and withdrawal process has been sped up considerably over the last year to accommodate the needs of its clients who continue to earn more every year and choose to take some of their profits out regularly.
Here are some things to know before we start walking through the steps of withdrawals.
Withdrawals are free on Olymp Trade. Yes, you will never be charged a fee or commission from Olymp Trade for withdrawing YOUR money.
There are NO limits on how much you can withdraw from your account, but the minimum amount is $10.
Over 90% of withdrawal requests are processed in less than 1 business day.
Having Expert status with Olymp Trade guarantees 1 business day withdrawals.



Starting the Withdrawal Process
Like most things on the Olymp Trade platform, the company has worked diligently to make withdrawals as simple as possible for clients. To get started, one only needs to click on the "Withdrawal" button on their main platform screen.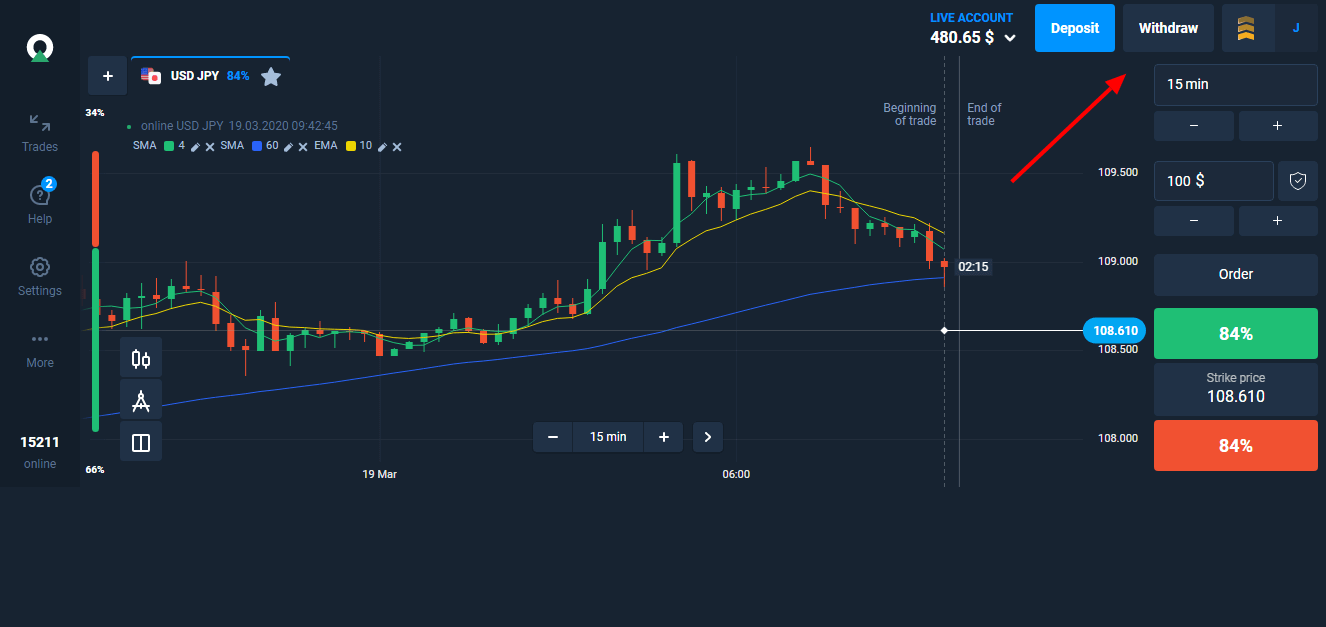 This will take the client to a withdrawal page where there are fields in which to enter the amount of money that the client wished to withdraw. The total account balance and available account balance are both displayed. A difference between the two usually indicates the presence of bonuses or credits for risk-free trades.
Once the client enters the amount for withdrawal and confirms it, the process begins on moving those funds directly to the bank account, bank card, or e-wallet that was used to deposit funds on the client's Olymp Trade account.
Withdrawals will be processed in 5 business days or less. Although it is usually quicker, Olymp Trade sets this parameter to account for any transaction delays.
Speed Up Your Withdrawals
Like we discussed earlier, most of these withdrawals will be completed in only 1 business day. However, here are a few things traders can do to speed up their withdrawals even more.
1. The single best way to improve your withdrawal speed is to upgrade your trader status to Expert. Expert level traders not only get top priority on withdrawals, which is usually nearly instant, Expert traders get a ton of other huge benefits as well.
Some of these benefits include consultations with a personal financial analyst to discuss trading strategies, risk-free trades, higher trading limits, and much more.
2. Use an e-wallet like Skrill or Neteller to make deposits (and subsequent withdrawals) to your Olymp Trade account. These e-wallets work directly with Olymp Trade to provide super quick transactions, which keeps your money out of the transfer limbo.
3. Get the highest level of "verification" on your account using "3rd party verification" from Google or another service. Having the highest level of verification means that Olymp Trade will be able to transfer funds with less time restrictions while they go through the standard verification protocol.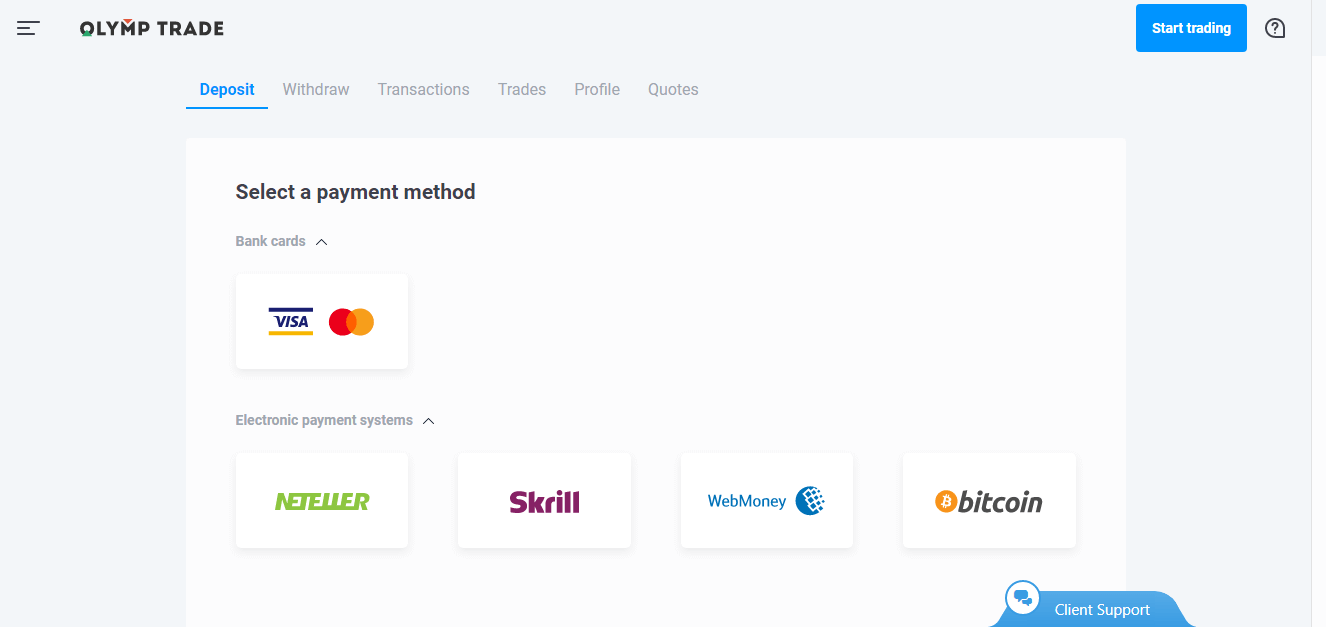 Additional Questions
To keep traders doing what traders do best — trade, Olymp Trade has created a set of resources to help clients with questions on deposits and withdrawals. Here are some of the ways clients can find answers or solutions to their questions.
1. The Withdrawal section of the Olymp Trade platform includes an extensive FAQ for clients. Nearly all issues with fund transfers can be solved by following instructions in the FAQ. With millions of clients from all over the world and many years of experience, Olymp Trade has probably handled your questions before and often.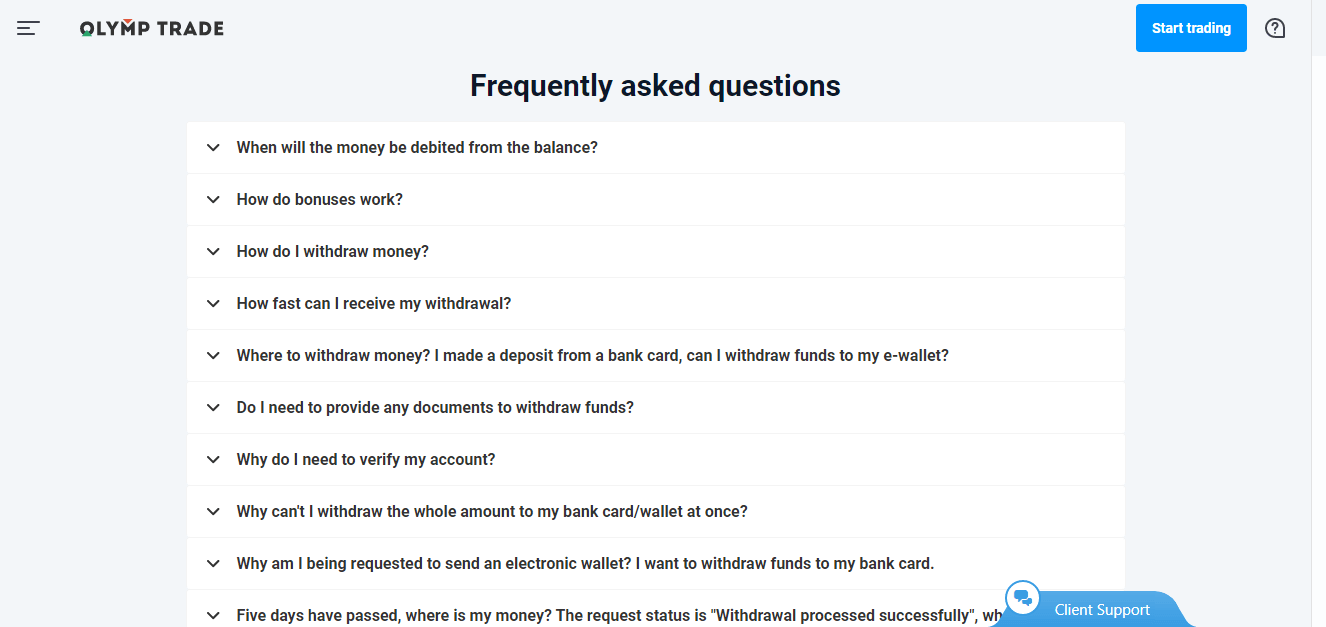 2. Online Chat is provided for all Olymp Trade clients and the technical support professionals are well-prepared to answer your questions and get you on your way. Simply click on the "Chat Support" button on the bottom of your screen while on the platform and someone will be with you shortly.
3. Contact Client Support using one of the other methods available to clients. The client support page provides additional methods for contacting Olymp Trade besides the online chat option. Traders can email questions utilizing a form and request to be contacted back by email or even phone.
Additionally, Olymp Trade provides a variety of phone numbers where clients can contact them directly by phone.
If you have a question and couldn't find the answer in the FAQ, then choose one of the other options and Olymp Trade will get you taken care of. Afterall, the goal for everyone is to keep traders trading.